The Leading Biomimicry Events Around the World 📆
Are you looking for an inspiring, in-person biomimicry-related event? This is a list of keystone events this year from around the world to invite you into the world of biomimicry. The search is over, welcome to the list of extraordinary biomimicry-themed events in your country.
The Bioneers Conference
Revolution from the Heart of Nature
Image reference: bioneers.org
Bioneers is an exceptional community of nature-inspired scientists and artists, green business innovators, philanthropists and economists, women leaders, writers and filmmakers, educators and students, social and racial justice advocates, and many, many more. It is well known for its contribution in Leonardo DiCaprio's The 11th hour and boasts of its eminence as the winner of Japan's Goi Peace Award, whose past recipients include Bill Gates, and scientist James Lovelock, of the Gaia Hypothesis.
The annual Bioneers conference serves as a global platform to drive change for people and the planet, hosting plenary sessions by unsung heroic innovators, film screenings, community conversations, renditions and hands-on activities spanning a period of three days. So, if transformative innovation is on your mind, and you can't wait to lead the transition from trodding over nature to looking up to it, this is your chance!
🎯 What: The Bioneers Conference
🇺🇸 Where: Berkeley, California, USA
📆 When: April 6-8, 2023 (expired for the year)
🧭 Website: Learn more about the next conference dates here


Circularity 23 - Accelerating the Circular Economy
Image reference: Circularity 23
As the leading convening of professionals building the circular economy, Circularity 23 offers thought-provoking keynotes, actionable breakouts, a solutions-oriented expo and unparalleled networking opportunities. This year's Circularity event features a variety of unique special programs, accelerator pitches, expos of real-world circularity projects, and an elevated attendee experience… and don't forget about the after-party!
⭕️ What: Circularity 23
🇺🇸 Where: Hyatt Regency, Seattle, Washington, USA
📆 When: 5-7 June 2023
🙋‍♀️ Who's it for: Professionals building the circular economy, leaders in the climate community, sustainability-focused professionals
🧭 Website: Visit Circularity 23


The American Institute of Architects (AIA) Virtual Conference 'Regenerative Design: Project Positive'

Image Reference: Conference on Architecture
If you are an architectural designer who aspires to take your creative output to the next level and create something truly unique and inspiring, then this gathering is one you'd never want to miss! B3.8 - the top biomimicry consultancy - and partners HOK, Jacobs and Ecometrix, will be sharing the work of Project Positive with the AIA community, highlighting the potential of our built environment to be optimised for form and function by adhering to the Life's Principles of zero-waste and resilience. The idea is to apply natural systems thinking to reimagine not only present-day buildings (read; cages) but entire cities and landscapes to operate in a circular flow of resources. The path to a regenerative world is now just a click away!
🎯 What: Regenerative Design: Project Positive
🗺️ Where: Virtually
📆 When: June 7, 2023
👷‍♀️ Who's it for: Architects, Town Planners and those working in the Built Environment
💸 Price: Free
🧭 Website: Register here


Biomimicry Weekend - Informed by Nature
Richard Dawson from Wild Awake and Nicola Peel cordially invite you for an immersive weekend at the Willows Lakeside Retreat to learn from its local biodiversity as you seek inspiration to innovate for a sustainable world. Richard is an educator and project manager with 20 years of experience in empowering students to look into nature for solutions and turn them into business ideas, while Nicola, an inspirational speaker and a prolific solutionist working on the environmental and social fronts for 20 years, guiding projects in the Ecuadorean Amazon. With an inspiring visit to the Knepp Rewilding Project on the itinerary, and a chance to enjoy quality moments in the dark sky area by the South Downs National Park, this retreat with the duo is certainly going to bowl you over!
🎯 What: Biomimicry Weekend
🇬🇧 Where: Willows Lakeside Retreat, Pulborough, UK
📆 When: 23-25 June 2023
🙋‍♀️ Who's it for: Students, educators, activists, environmentalists and business seeking to innovate
💸 Price: £100 – £300
🧭 Website: Biomimicry Weekend*
*If you wish to request a discount, kindly get in touch with Nicola through the above link
Biomimicry & Regenerative Design Conference 'Designing For Life'

World's Biggest Design Brief Ever
Image Reference: Eventbrite
Here is yet another tantalising opportunity for you to explore biomimicry and its limitless potential in transforming your life and creating a regenerative world. The day-long conference organised by D-Lab Studios is studded with talks from celebrated figures like Alan Moore, a craftsman, author, and founder of Beautiful Business; Richard James MacCowan, designer, biofuturist and founder of Biomimicry Innovation Lab; David Kirkland, architect, teacher and founder of Kirkland Fraser Moor Architects and D-Lab Studios, and Amanda Johnston, an accomplished expert in sustainable design and biomimicry in the fashion industry. Get set for a blast of fun and learning with workshop breakouts, youth forum, fireside chats, 3D printing, VR and design to name just a few! And don't forget to grab your special surprise - a complimentary copy of Alan Moore's book, "Do Design or Do Build"!
🌱 What: Designing For Life conference
🇬🇧 Where: London, UK
📆 When: July 1, 2023
⭕️ Who's it for: Architects, designers, business leaders
💸 Price: £350
🧭 Website: Discover more about the conference here


SOAK Biomimicry 2023
A Visit to the Living Learning Lab
The theme of SOAK (SOmmer AKademie) Biomimicry 2023 centres on the climate crisis swallowing the livelihood of communities around Lake Neusiedl in Burgenland, Austria and emphasises the need to embrace nature-positive changes in order to ensure the survival of this tourism-driven economy. Using this as a design challenge, you will gain hands-on experience with the Biomimicry Innovation Process led by a team of sustainable innovation experts, enabling you to ultimately apply it in your own sphere of activity. In other words, this is where you will learn to appreciate how nature manages to thrive on a planet with finite resources and intense competition, while still creating conditions conducive to life. From equipping you with the lens to learn from nature as opposed to learning about it, to forging enduring connections with mentors and other passionate individuals, this workshop is bound to leave you mesmerised!
💦 What: SOAK Biomimicry 2023
🇦🇹 Where: Region Lake Neusiedl, Burgenland, Austria
📆 When: 9 -15 July 2023
🎓 Who's it for: Students, alumni and employees of educational institutions, with diverse levels of education, disciplines, generations and life experiences
💸 Price: Participation is free of charge barring a registration fee of EUR 150
🧭 Website: SOAK Biomimicry 2023
*Don't fret about the deadline for applying - they still have a few spaces open, which means your application may very well be considered. But in case not, there's always next year for you to try again.
Living Machines Conference 2023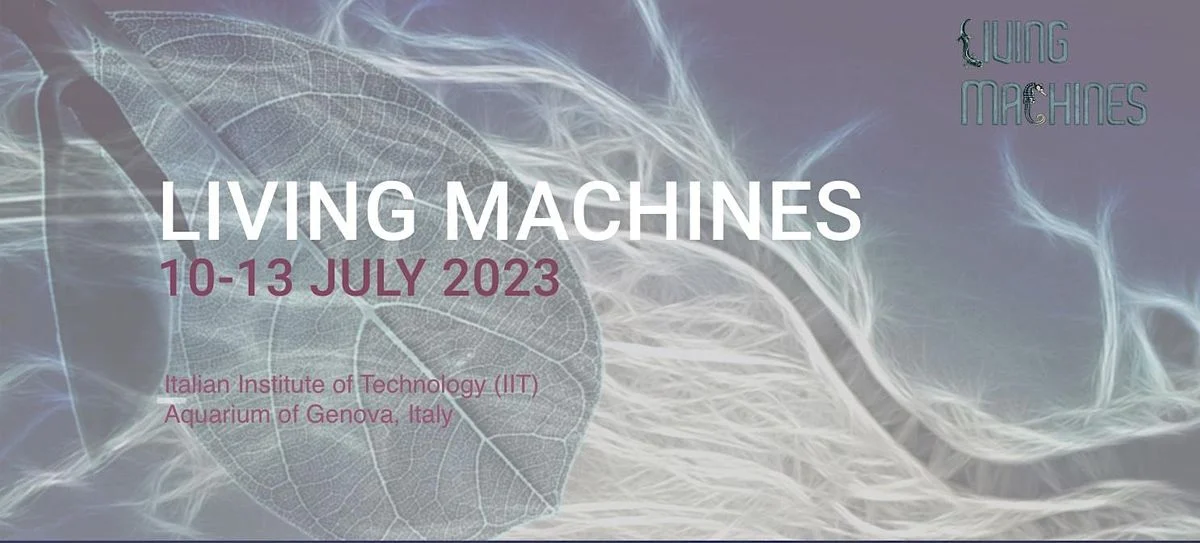 Image Reference: Living Machines Conference
Highlighting the most exciting research on biomimetics and biohybrid systems united by the theme of "living machines".
The development of future real-world technologies will depend strongly on our understanding and harnessing of the principles underlying living systems and the flow of communication signals between living and artificial systems. The conference theme also encompasses biomimetic methods for manufacture, repair, and recycling inspired by natural processes such as reproduction, digestion, morphogenesis, and metamorphosis. You'll find scientific workshops and tutorials, a 3-day exhibition of research groups and companies, enjoy cocktails on the sea, and dine at a gala dinner in an exclusive location… enjoying the scientific awards for papers and posters. Organised by the Italian Institute of Technology (IIT) - this is a stellar biomimicry event not to be missed!
🤖 What: Living Machines 2023
🇮🇹 Where: Aquarium of Genova, Italy
📆 When: 10 - 13 July 2023
💸 Price: Registration fees range from €90 to €500
🧭 Website: Learn more about Living Machines 2023 here


Discover Nature's Genius for Social Innovation
Transforming Social Systems to Ecosystems
Image Reference: Biomimicry 3.8
An immersion into nature to explore solutions to social problems? Well, this is as true and happening as the fact that you just read it! In this 7-day workshop offered by Biomimicry 3.8 in partnership with Biomimicry for Social Innovation, you will learn how nature manages to be so incredibly adaptive, collaborative and self-organised, as you explore the sprawling greens surrounded by one of the most biologically diverse rivers in the world, the Powell. Given that, you'll also share space with a diverse crew of people who will join you in learning the lessons of nature from leading names in Biomimicry. Freshwater mussels, river otters and great blue herons are all waiting to see their students!
🗺️ What: Discover Nature's Genius for Social Innovation workshop
🇺🇸 Where: Well Being Retreat Center, Northeast Tennessee, USA
📆 When: October 2-8, 2023
🙋‍♀️ Who's it for: Anyone who needs to work in a collaborative environment, handle complex situations, develop leadership, become a change agent, or if you're just interested
💸 Price: Starting at $2,900
🧭 Website: Check for scholarships, discounts and further details here


Biocene 2023 - Transforming Materials

If you're in the aerospace industry, or even if you're not, there is something valuable for you at Biocene: a bay where people huddle to exchange bio-inspired ideas, and research and collaborate with industry personnel and academics alike. This year at Biocene, it's about transforming materials - depositing layers of research and innovation on the substrate of Biomimicry.
"From my own experience, students realize enormous benefits every time they present their work. The friendly, interdisciplinary environment of the Biocene is a great opportunity to practice a poster presentation targeted for another venue, as well as to extract extra value for work that might be interesting to diverse audiences outside their usual target demographic" - Biomimicry Educator, Deborah Bidwell
So, whether you wish to join as a research scholar to share your findings or just a science enthusiast, this is an opportunity that requires no thinking over!
Until the registration for the event goes live, check out this virtual session on Sparking Sustainable Innovation with Biomimicry
🧬 What: Biocene 2023
🇺🇸 Where: Ohio Aerospace Institute, Cleveland, Ohio
📆 When: 18-20 October 2023
👩‍🔬 Who's it for: Anyone keen on exploring biomimetic research and development
🧭 Website: Save the Date for Biocene 2023 here (details to follow on their website)


Discover Nature's Genius Workshop
Following the Trail To Treasure
What is the first thing that catches your fancy when you wonder about intelligent life that outwits humans? If it's nature and not aliens, then it's time that you headed to the Atlantic Forests of Brazil. Home to a mind-boggling variety of plant and animal species, many of which exist nowhere else on Earth, this ecosystem offers an ideal location for seeing the genius of nature in action for yourself. Join world-class instructors from Biomimicry 3.8 and fellow learners from around the globe for an awe-inspiring week of learning biomimicry and losing (or finding) yourself in the woods.
🗺️ What: Discover Nature's Genius workshop
🇧🇷 Where: Atlantic Forests of Brazil
📆 When: November 4-10, 2023
🙋‍♀️ Who's it for: Students and professionals from all levels of experience willing to blend biomimicry into their careers
💸 Price: Starting at $4200
🧭 Website: Book your biomimicry adventure in the Atlantic Forests of Brazil here


IV International Symposium on Biomimicry
A Rendezvous of Many Worlds
Image Reference: Symposium 2023
In a bid to bridge the gap between seemingly non-intersecting industries, the Biomimetics Sciences Institute invites you to expand your horizons and unlock the potential of interdisciplinary and collaborative research, in creating a robust and inclusive world. By leveraging nature's strategies of mutualism and networking, the symposium aims to help individuals and organisations to find answers to societal and ecological challenges, through biomimetic processes. Peer-to-peer innovation is being driven through conferences, roundtables, debates, interviews and analysis sessions. Go ahead and save the dates for one of the most enriching gatherings you'll ever attend!
🟢 What: IV International Symposium on Biomimicry
🇪🇸 Where: Barcelona, Spain (Hybrid mode)
📆 When: 22-24 November 2023
🙋‍♀️ Who's it for: Academics, students, researchers, entrepreneurs, artists and social organizations from all walks of life are welcome
🧭 Website: Keep a lookout for the details of the programme here


Biomim'expo
Image Reference: Biomim'expo
The 8th edition brings the 'Queens Event' of biomimicry even closer to nature. The Biomim'expo already sets the bar for biomimicry and bio-inspiration events, and this year's venue, Paris' Floral Park, elevates the conversation to an even greater celebration of biomimicry and biodiversity. With no other event quite like it in the world, the Biomim'expo attracts biomimicry experts, practitioners and innovative cross-pollinators from diverse scientific disciplines and industries. Join the adventure to co-create visions and plans for building a bio-inspired future!
🎉 What: Biomim'expo
🇫🇷 Where: Paris Floral Park, France
📆 When: 23 and 24th of May 2024
👷‍♀️ Who's it for: A meeting point between scientists, researchers, engineers, politicians, entrepreneurs, financiers, etc.; between biologists, physicists, chemists, urban planners, architects, ecologists, philosophers, sociologists, etc.; between large groups, start-ups, public bodies, schools, universities, research centres, etc., because exchange and multiculturalism are innovation accelerators.
🧭 Website: Book your ticket for the Biomim'expo here


Biomimicry Workshop with Jamie Miller
Recreation for Innovation
Imagine spending your family vacation surrounded by the breathtaking views of the Bugaboo peaks of Canada, trekking alongside renowned TEDx speaker and founder of the consultancy Biomimicry Frontiers, Jamie Miller! This workshop brings your imagination to life! Heli-hiking to iconic landmarks, here you will have the opportunity to engage in enlightening conversations with the expert guide and uncover the remarkable patterns of nature along the way. So wait not to embark on this life-changing adventure that is guaranteed to stimulate your creativity and revolutionize the way you tackle challenges in your field.
🗺️ What: Biomimicry Workshop with Jamie Miller
🇨🇦 Where: Bugaboos, British Columbia, Canada
📆 When: June 30 - July 3, 2024 (Starting slot of summer 2024)
🙋‍♀️ Who's it for: Anyone eager to learn and apply biomimicry to their personal contexts
💸 Price: $3184
🧭 Website: Learn more about the workshop here


---
Interested in listing your biomimicry event?
Reach out to us at [email protected] with the subject line: Biomimicry Event to Add - <Your Event>. Please include all the necessary details.
---

Three more ways we can help you learn biomimicry
1.) Download our FREE eBook: A Field Guide to Biomimicry. If biomimicry seems a little overwhelming or confusing, that's okay, we know it can be. That's why we created this simple, distilled guide to walk you through the key concepts of this inspiring field of practice.
2.) Biomimicry Short Courses -This is the best place to start your biomimicry learning journey. You'll get a strong foundational understanding of biomimicry, an internationally-recognised certificate endorsed by the Biomimicry Institute, and so much more. Check out our Biomimicry Short Courses here today.
3.) If you have a project or idea and are looking to build it with Biomimicry in mind, join our 6-month Biomimicry Practitioner Programme to get hands-on with Nature.
Still interested? Here are some further resources you may find useful:
>> A comprehensive list of more technical conferences on biomimicry as applied to various disciplines